The Unified Scene Theater and Women From Mars present:
Silent Reflections: A Clown Noir Cabaret
$15.
TWO SHOWS!
Tuesday, January, 12th, 9:30 p.m.
(doors open at 9)

Wednesday, January, 13th, 8:30 p.m.
(doors open at 8)
Show description:
A girl, a diva and a mother are trapped in a world without voice or color. In this clown-noir piece they are forced to confront their insecurities as well as the expectations and boundaries society places on women.
"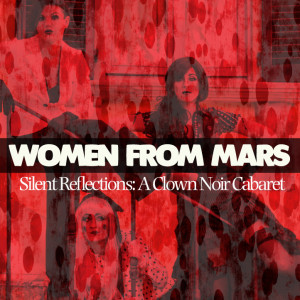 Silent Reflections" is a clown-noir cabaret that explores women's insecurities and societal pressures through the medium of silent film. The piece attacks the portrayal of women in media and the role women play in supporting these highly sexualized, and many times, demeaning and powerless stereotypes. The show aims to funnel these dark themes through the imagination of three different female clowns, striving for a fresh, farcical, and sometimes grotesque look at what society has done to the way women view themselves, where they locate their power, and as a result, how they treat themselves and each other. The characters employ physical theatre techniques, animation, projections, comedy, modern dance, music and drama to reflect and expose the inherent struggles in three stages of womanhood.  It is almost entirely performed to a soundtrack created by the artists themselves in collaboration with their Sound Designer Raffaele Abbate from OrangeHomeRecords.