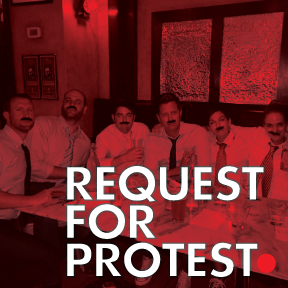 When: Friday, November 6th, 8:30 p.m. (doors open at 8)
For The Unified Scene Theater's second show, we're combining the talents of a new-to-the-scene DC-based improv troupe and a veteran troupe making its second appearance at TUS: Request for Protest and ShawnMikael(s). The classic battle of youth vs. age, energy vs. experience. Who will win?  You will, when you show up and enjoy the laughs these two troupes will inspire.
Your Feature Troupe: Request for Protest
Request for Protest is a long-form improv ensemble featuring: Pat Bragan, Mary Canter, Scott Hopmann, Emily Markle, Brandon McTavish, and Chris Rampolla. Character-driven and full of quirk, RFP shows are like a string of feral ponies high-stepping across the not-so-nice-end of the beach: a little unruly and a lot of fun, even with the strong likelihood of strolling over a used syringe. Since meeting in a DC Improv class in the winter of '15, RFP has been honored to play on several of the District's mainstay comedy stages including: DC Improv, ShawnMiakel(s) in CoHi (Studio 1469), Improvapalooza (Source Theater), and DC Arts Center. RFP is coached by Shawn Westfall.
Your Headliners: ShawnMikael(s)
ShawnMikael(s): A two-person improv show consisting of Shawn Westfall, co-founder of The Unified Scene Theater and for 11 years the exclusive teacher of improv at the DC Improv, and longtime DC improv-scene mainstay Mikael Johnson (formerly of Washington Improv Theater's Jackie). Together, as ShawnMikael(s), they've headlined numerous improv comedy festivals and played to audiences up and down the Eastern seaboard, including The Charleston Comedy Festival, the Philadelphia Improv Festival, the Kansas City Improv Festival, The Charm City Comedy Festival and The Baltimore Improv Festival; as well, their monthly show in the Columbia Heights section of DC has sold-out a 75-seat venue 33 of the last 36 months. In their show, both actors frequently populate their scenes with multiple characters and jumps in time and space while maintaining the scene's integrity and internal logic. The result? Never-before-imagined worlds come alive, entire communities emerge, and comic possibilities are realized.
When: Friday, November 6th, 8:30 p.m. (doors open at 8)
Tickets: $15