Shows. Events. & Happenings.
Here's whats currently going on at TUST
Want to join our mailing list, where you'll be among the first notified of upcoming classes, workshops, shows and events? Cool. Send us an email at info@unifiedscenetheater.com and say, "Yeah, what the hell, put me on the mailing list…" You can even select, copy and paste that previous sentence so you don't even have to type it. There. Done.
An Evening With The Unified Sing
$15.
Friday, April 14th, 8:30 p.m. (doors open at 8 p.m.)
This evening The Unified Sing is taking over. Taking over the entire stage at The Unified Scene Theater, taking over the entire show for an evening, taking over, period. Beginning the show with individual — and completely improvised — songs and group-song structures based on audience suggestion, The Unified Sing will then improvise an entire musical — scenes, words, music and lyrics — before your eyes. You've never seen anything like this before, and, since they're making it up as well, neither have they. Show up and get yourself a little (improvised) Broadway on the Potomac as The Unified Sing shows you what 42nd Street might look like with a little (read: a lot!) of artistic license.
The Unified Sing is: 
Julie Tice
Caroline Yates
James Freeman
Shawn Westfall
Mickey Daniel, accompanist
Show starts at 8:30 p.m. (doors at 8 p.m.)
The Artless Bards and VI Lenin
$15.
Friday, April 21st, 8:30 p.m. (doors open at 8 p.m.)
There are some scholars who believe that the revolutionary ideas of Lenin had their roots in his reading of great literature, specifically Shakespeare, whose history plays, tragedies, and comedies detail how frequently the lower-caste characters got the better of their upper-caste ones. We're putting that theory to the test, improvisationally speaking, combining The Unified Scene troupe The Artless Bards, who will improvise a Shakespearean structure, with our House Troupe VI Lenin, who's improvised brilliance will no doubt update and make reference to that which came before. Show up to see history made right before your eyes.
Your Feature Troupe: The Artless Bards: An Improvised Shakespeare Show
For thy entertainment this eve: The Artless Bards, a rascally troupe of scapegraces and dunderpates mangle, confusticate, and otherwise bedevil the memory of the Bard. What will spin faster? Their tongues as they spin a fantastical tale, or the Bard's corpse as his life's work is profaned for your pleasure?!
Your Headliners: VI Lenin
VI Lenin (Rich Nyman, Joe Uchno) explores the world and characters around us just as soon as we figure out what they are, sometimes before. Rooted in discovery and patient scenework, each Lenin show will take a different form. We follow whatever discovery is most interesting and see where that takes us. Come along for the ride. We're going to have a good time together.
Bring Back the '90s
$15.
Saturday, April 22nd, 8:30 p.m. (doors open at 8 p.m.)
Someone once warned us against thinking in terms of decades, because they aren't really that definitive or all-encompassing when it comes to summarizing an era. But you know? To hell with that dude. For instance, the '90s! Who doesn't love them? A Clinton in the White House! Zach and Slater were still at Bayside! P Diddy was still Puffy. Those were the days, right? Well, no need to simply reminisce: the cast of Bring Back the '90s will make them reappear right before your eyes, via the magic of technology (they'll broadcast music videos from that decade) and the even magic-er magic of improv. It'll be bigger than Zach Morris' cell phone!
Your Feature Troupe: Bring Back the '90s
The '90s were a great time for pop culture, fashion, and of course… music videos! Bring Back the 90s is an improv show based on the most memorable 90s music videos. The audience will get to choose which music videos to watch. The cast will use the images and lyrics from those videos to create hilarious, and off-the-charts scenes.
Bring Back The '90s is: 
Erick Acuña
Elaine Colwell
Ginnie Seger
Katie Ozog
Rob Miller
Erica Johnson
Patrick Murray
Martin Steger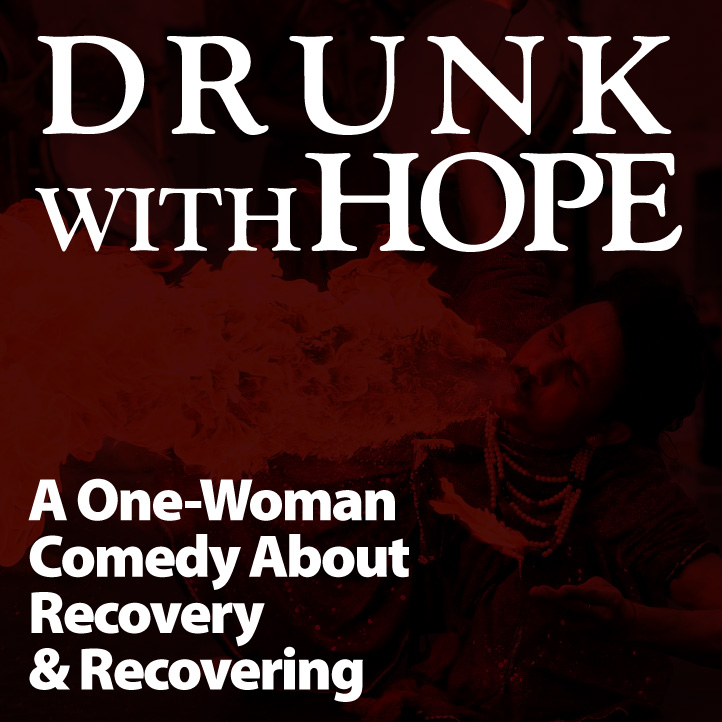 Drunk With Hope: A One-Woman Comedy About Recovery and Recovering
$20.
MULTIPLE DATES    See the Buttons to the left for dates. 
What's it like to be in recovery? And, more importantly, what are the unique experiences of being a woman in recovery? Hope is here to tell you. And she brought a few friends. 
Tara Handron, the playwright and sole actor of her "Drunk with Hope," discards clichéd depictions of recovery and relies on stories with depth, poignancy and humor to expose the raw emotions and experiences so many alcoholic women face. Tara portrays a woman named Hope, as well as many other female alcoholics (some sober, some not so sober) of various ages, ethnicities, and socio-economic backgrounds. At times poignant, at times dark, but at all times (darkly and lightly) comic, Tara's exploration of the numerous personalities and experiences faced by women in recovery will leave you both gut-punched and laughing, and, of course, filled with hope.
About "Drunk With Hope" 
The play evolved out of Tara's master's thesis research of female recovering alcoholics and the comparison of their experiences in traditional face-to-face 12 Step recovery meetings to online meetings.  The play is a fictional compilation of many women's stories along with her observations, experiences, and imagination.
After premiering at Georgetown University in April 2008, she later produced her play at H St Playhouse in Washington, DC in February 2009 and in 2014 in Bethesda, MD at the Round House Theatre for a special one-night engagement.  Since then, Tara has performed her play has been performed in a variety of cities and venues including festivals, recovery-related events, conferences, treatment centers, and jails (yes, jails!).  Tara is very excited to be bringing "Hope" to Unified Scene Theater!
About Tara Handron:
Tara holds a BFA from New York University's Tisch School of the Arts and an MA from Georgetown University in Communication, Culture & Technology.  When she is not storytelling in front of the footlights, Tara channels her passion for recovery and awareness into her position with the Caron Treatment Centers as Regional Vice President for the Greater Washington, DC area. Go to  www.tarahandron.com for more information about Tara and "Hope."